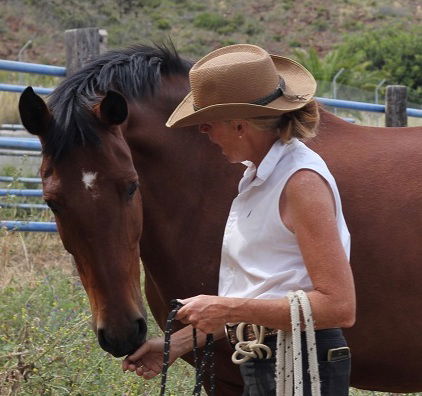 Hi! My name is Monica, known to many as
The Softness Training Coach.
Softness in Horses
is my favorite subject and I am passionate about helping
people and horses become the best partner they can be for each other.
That is why I created
The Softness Training Programme:
to be able to share my knowledge and experience with as many people as I can all over the world via my on-line courses and distant coaching.
I have been
involved with horse for over 40 years
and experienced all the highs and lows that being around horses for that long can bring. I have
followed many masters
,
learnt many lessons
,
made thousands of mistakes
,
fallen in many potholes.
I have
searched for answers
in many places, s
tudied
many courses and
observed
many horses, too!
Softness Training is about looking at our horse for the answers
. About reading their body language and responding accordingly.
About working with our horse's thoughts, as well as with their body
. It is also
about looking at ourselves.
.. about being soft with ourselves.
Over the years, I
have helped hundreds
of competition riders, amateur horse owners, horse sharers, riding school riders, once-a-week riders and holiday makers on their "bucket list" horse experiences
become better partners for their horses
. Some of these people were after
creating a special connection
with their horses. Others wanted help with
creating softness in the work
they do with their horses to
improve performance
. Others yet, wanted help
understanding their horses
better, or to
loose their fear and improve confidence.

Time and time again I have found that
the softer our initial approach is
to the horse each time we meet him (whether in the field or in his stable),
the softer and more connected the whole session for that day is.
The
horse is more relaxed and connected, more willing, more open to interacting with us and, as an added bonus, safer to be around!

There is so much I would like to share with you to help you create that partnership we all dream of with our horse. As a first step,
I would like to invite you to join my free 8-Day Challenge: "The Soft Approach" and send you my free "Connection Checklist"
. This will be a good way for you to get to know me and see if Softness Training is something you would like to include in your everyday dealing with your horse.
This is where it starts.... at the very beginning!
I look forward to hearing from you!
In the meantime time,
Happy Connecting!
Monica
The Softness Training Coach